About
Welcome to Howgill Lodge
Our family has a long history in Wharfedale and we believe it's one of the most stunning valleys in the UK. After the success of our camping and glamping site at Catgill Farm in Bolton Abbey, we were thrilled to take over Howgill Lodge Campsite, just five miles further into the valley. We fell in love with its unique setting amongst the rugged Yorkshire Dales landscape, which is full of character and offers so much to visitors.
4 Timber Lodges

Award-winning interior design

21 Caravan Pitches

inc. Motorhomes & Campers

26 Tent Grass Pitches

11 electric / 15 non-electric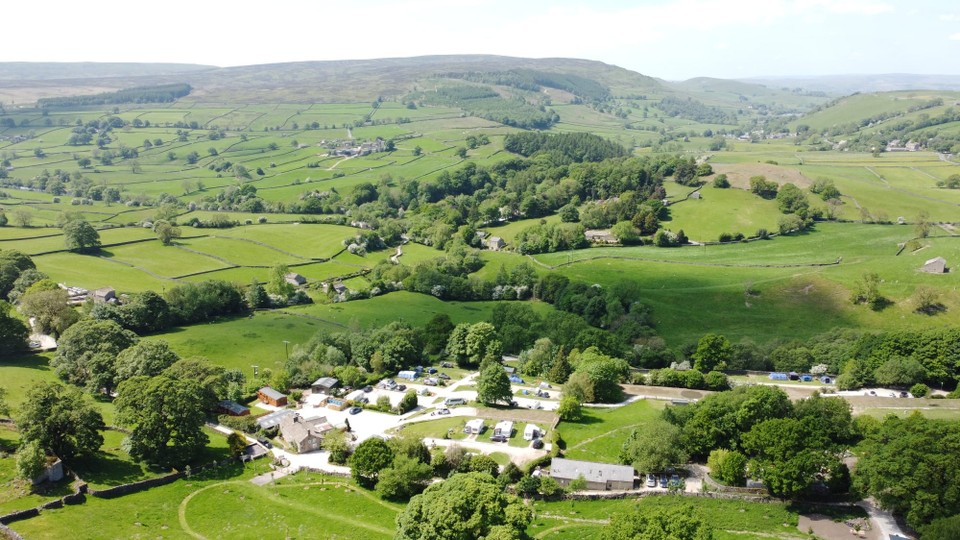 Why visit Howgill Lodge
Howgill Lodge Campsite caters for a wide range of guests, from those in tents and caravans to those in campervans and motorhomes. Additionally, those who want to indulge in a touch of luxury can stay in one of our recently renovated timber lodges, each with a private hot tub.
A hikers heaven
Howgill Lodge offers walks for all abilities, from riverside strolls to challenging hikes. Visit the nearby villages of Appletreewick and Burnsall for an afternoon stroll or walk to the top of Simon's Seat and through the Valley of Desolation for dramatic scenery and the stunning Posforth Gill waterfall.
Fire baskets
Love toasting marshmallows while camping? Hire one of our fire baskets from reception, complete with logs and kindling. Our luxury lodges come with a fire pit with built in pizza oven, marshmallow toasting fork, and popcorn pan for your enjoyment.
A dream for cyclist
Howgill is near popular cycling routes, including challenging parts of the Tour de Yorkshire. We're also near off-road cycling trails in the Yorkshire Dales with demanding hills. Use our campsite bike wash after your ride.
Nearby pubs
In our local village of Appletreewick you will find not 1, but 2 traditional country pubs! The best way to get to the village is via a lovely 20 minute walk along the banks of the river Wharfe. Both pubs have plenty of outdoor seating and serve good food, fine wine and local beers.
Your morning coffee
Our morning coffee shop is not to be missed! Our friendly staff are ready to serve you with hot barista coffee and freshly baked pastries including croissants and pain au chocolat. We also serve tea and delicious hot chocolate. The perfect way to start your day!
Onsite shop
The car is packed and everyone clambers excitedly inside, you are finally ready to set off but what have you forgotten? There is always something we forget, but don't worry our small onsite shop is located in our new reception. It sells most basic essentials and is ideal for those forgotten items.
Back to nature
Howgill Lodge offers a rural retreat surrounded by Yorkshire's traditional countryside. Despite being away from it all, local attractions and places of interest are easily accessible. With sheep grazing on the hillside and birds singing on the breeze, guests can experience a sense of peace and wellbeing, reminiscent of James Herriot's days.
Stargazing in the night sky
Howgill is located in the heart of Yorkshire Dales, designated as a dark skies area with minimal light pollution. Relax and appreciate the breathtaking night sky, we recommend downloading the free "Night Sky" app to spot visible constellations and planets during your stay.
A rural spot, with lots to do
Howgill is close to several visitor attractions such as Bolton Abbey Priory, Hesketh Farm Park, Billy Bob's Diner, and Skipton Castle. As well as picturesque towns and villages with good shopping and dining options nearby. Spectacular scenery can be enjoyed at The Strid, Simon's Seat, Valley of Desolation, and Aysgarth Falls. Check out our things to do page for a full list of activities.
Alpacas
Our small family of alpacas can be found grazing in their paddock and this is your opportunity to get up close and learn about these beautiful and inquisitive animals. We are sure you will love them as much as we do!
5 Star Amenities
Modern high quality, brand new amenity facilities are provided including hot showers, laundry facilities and washing up sinks.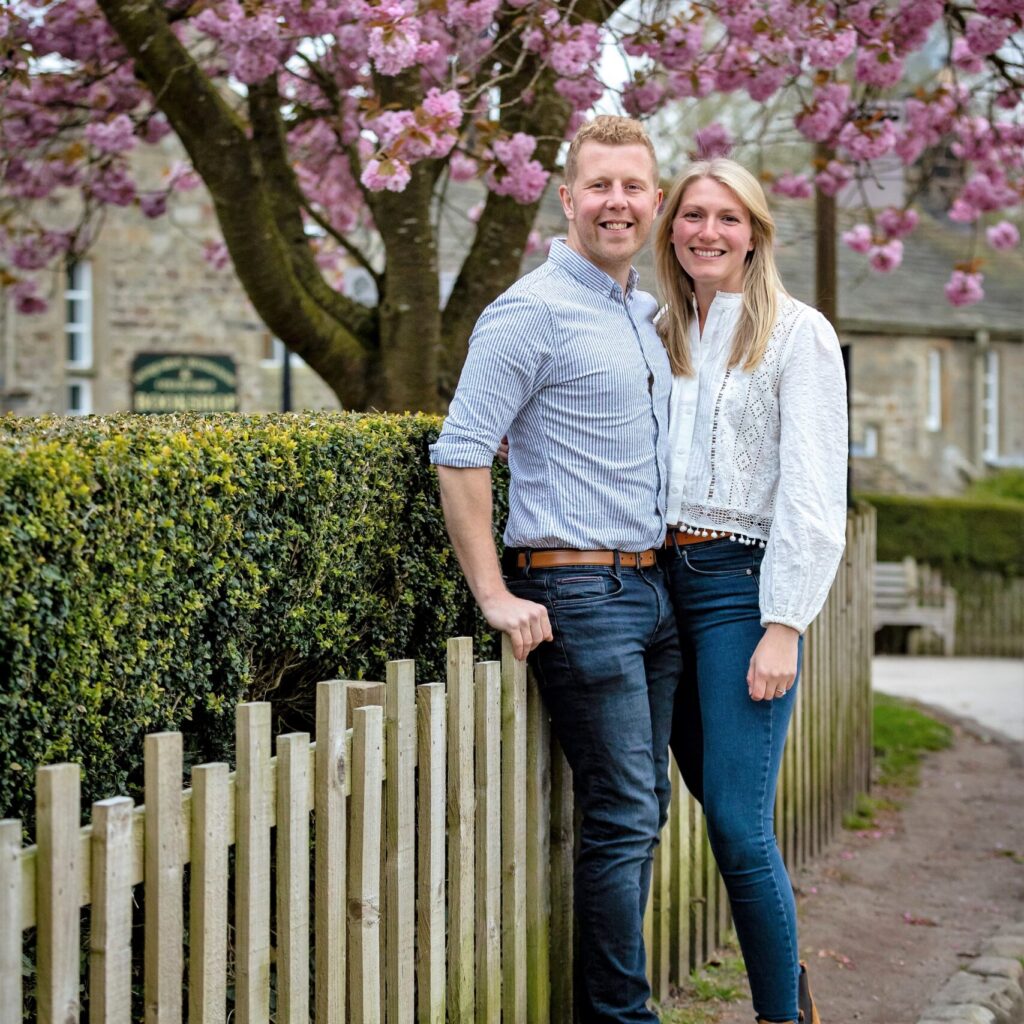 Our Story
We are Oliver and Cat and we live with our 4 dogs Zara, Luna, Molly and Marley. Having lived in the Dales all our lives, we enjoy country life and love being in the great outdoors.
Our journey began in 2014 when we diversified our dairy farm and welcomed the first guests to our brand new campsite at Catgill Farm in Bolton Abbey. It's been an amazing few years during which we have developed the site from a field and a top quality shower block into something really special and we are delighted that our customers love it here as much as we do.
In August 2020, we took over Howgill Lodge. We were captivated by the beauty of the surroundings and the peace and tranquillity we found sitting in the sun enjoying the wonderful views. Of course, the close proximity to the Brownie Barn right next door has its advantages, as does the lovely riverside walk to get a pint at the local pub! With our passion for camping, our love of the Yorkshire Dales and our energy for designing and creating beautiful things, we knew immediately that this would be the beginning of our next chapter. Whilst retaining all the original charm, character and family feel of the site we have made some exciting developments to bring the campsite into the 21st century.
The rural setting, the beautiful surroundings, and the many things to do nearby provide a unique and unforgettable holiday experience. People have enjoyed staying at Howgill Lodge over the years and we love to welcome guests old and new to this fantastic location.
We hope you will come and stay, at what we think, is one of the best campsites in Yorkshire!
Oliver, Cat, Zara, Molly, Luna and Marley
When Jo and Rich joined our Catgill team in 2019, we knew straight away that they would become part of our family. We were delighted when they agreed to be our new onsite managers at Howgill as we knew their passion, commitment and friendly welcoming manner would give us the same family feel that we have at Catgill. Read on to discover their story;
We are Rich and Jo, Site Managers at Howgill Lodge and we live onsite in The Farmhouse. We moved here in August 2020 and were completely overwhelmed with our new surroundings and the spectacular views of the Dales.
We cannot think of a better way to spend an evening than sitting with friends and family around a crackling fire and we simply can't resist a good ol' BBQ. We are privileged to call Howgill our home, it is most definitely the place for us!
We are incredibly dedicated to making Howgill Lodge, a special place for all. We are extremely excited about the opening of the newly refurbished Luxury Timber Lodges and all the recent improvements, including the 4 brand new amenity blocks, all of which have helped to make it even more special. We are delighted to have already received such positive feedback from guests old and new, and we look forward to welcoming you soon!
Rich and Jo
Where to find Howgill Lodge